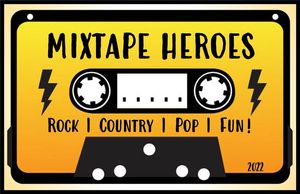 Request Lines Are Open - Let Us Know What You Want to Hear!!
Venmo us your request to @JamesAcoustic
You can also just come up to the stage where we have a glass jukebox and make your request.
We do know more songs than are listed below. If you don't see the song listed below, please feel free to still request.
Songs We Know
3 Doors Down - Kryptonite 
Barenaked Ladies - If I Had A Million Dollars 
Beatles - Come Together 
Better Than Ezra - Good 
Bill Withers - Ain't No Sunshine 
Blake Shelton - Some Beach 
Blake Shelton - Honey Bee 
Blues - Sweet Home Chicago 
Bodeans - Closer To Free 
Bruno Mars - Count On Me 
CCR - Have You Ever Seen The Rain 
Chris Stapleton - Tennessee Whisky 
Coldplay - Yellow 
Coldplay - Viva La Vida 
Collective Soul - The World I Know 
Counting Crows - A Long December 
David Lee Murphy - Everything's Gonna Be Alright 
David Lee Murphy - Dust On The Bottle 
Eric Church - Drink in my Hand 
Foo Fighters - Learn To Fly 
Foo Fighters - Times Like These 
Foo Fighters - Big Me 
Foo Fighters - Everlong 
Garth Brooks - Friends In Low Places 
George Gershwin - Summertime 
George Michael - Faith 
Goo Goo Dolls - Slide 
Green Day - Good Riddance (Time of Your Life) 
Green Day - When I Come Around 
Green Day - Basketcase 
Holiday - Feliz Navidad 
Holiday - Run Run Rudolf 
Jack Johnson - Staple It Together 
Jack Johnson - Flake 
Jason Mraz - I'm Yours 
Jimmy Buffett - A Pirate Looks 40 
Jimmy Buffett - Margaritaville 
Jimmy Buffett - Come Monday 
Jimmy Buffett - Son of a Sailor 
Jimmy Eat World - The Middle 
John Denver - Take Me Home Country Roads 
John Fogerty - Bad Moon Rising 
Johnny Cash - Folsom Prison Blues 
Johnny Cash - Ring Of Fire 
Jon Pardi - Head Over Boots 
Keith Urban - Somebody Like You 
Keith Urban - Who Wouldn't Want To Be Me 
Kenny Chesney - When the Sun Goes Down 
Los Lobos - La Bamba 
Luke Bryan - Country Girl Shake It For Me 
Luke Bryan - Play It Again 
Luke Bryan - Drink A Beer 
Luke Combs - When It Rains It Pours 
Luke Combs - Beautiful Crazy 
Marshall Tucker Band - Can't You See 
Matthew Sweet - Girlfriend 
Modern English - Melt With You 
Monkees - I'm A Belieber 
Morgan Wallen - Sand In My Boots 
Morgan Wallen - Whiskey Glasses

James Taylor - Carolina

James Taylor - Fire & Rain 
Click on Logo Below to Return to Top
America - Sister Golden Hair 
Beatles - Eight Days A Week 
Bon Jovi - Wanted Dead or Alive 
Bon Jovi - Who Says You Can't Go Home 
Brittany Spears - Baby One More Time 
Brooks & Dunn - Boot Scootin' Boogie 
Chris Isaak - Wicked Game 
Deep Blue Something - Breakfast at Tiffany's 
Filter - Take a Picture 
George Strait - All My Exes Live In Texas 
Greatful Dead - Uncle John's Band 
Hootie & The Blowfish - Only Wanna Be With You 
Jason Mraz - One Love 
Jim Croce - Bad Bad Lerow Brown 
Jimmy Buffett - Volcano 
Lee Brice - Hard to Love 
Lynyrd Skynyrd - Simple Man 
Lynyrd Skynyrd - Sweet Home Alabama 
Magic! - Rude 
Neil Diamond - Sweet Caroline 
Oasis - Wonderwall  
Old Crow Medicine Show - Wagon Wheel 
Paul Simon - Me And Julio Down By The Schoolyard 
Pearl Jam - Elderly Woman…... 
Proclaimers - 500 Miles 
Queen - Crazy Little Thing 
R.E.M. - Losing My Religion 
R.E.M. - The One I Love 
Radiohead - High and Dry 
Ramones - I Wanna Be Sedated 
Semisonic - Closing Time 
Shawn Mendes - Stitches 
Smashing Pumpkins - 1979 
Soul Asylum - Runaway Train 
Steve Miller - The Joker 
Stone Temple Pilots - Plush 
Sublime - What I Got 
Taio Cruz - Dynamite 
The Bodeans - Good Things 
The Cure - Just Like Heaven 
The Eagles - Peaceful Easy Feeling 
The Eagles - Take It Easy 
The Eagles - Hotel California 
Toby Keith - Should've Been a Cowboy 
Toby Keith - I Love This Bar 
Tom Petty - Last Dance With Mary Jane 
Tom Petty - American Girl 
Tom Petty - You Wreck Me 
Tom Petty - Free Falling 
Tom Petty - You Don't Know How It Feels 
Tom Petty - I Won't Back Down 
Tonic - If You Can Only See 
U2 - All I Want Is You 
U2 - One
U2 - With or Without You
Van Morrison - Brown Eyed Girl 
Van Morrison - Into The Mystic 
Walk The Moon - Shut Up And Dance 
Zac Brown Band - Chicken Fried 
Zac Brown Band - Toes 
Zac Brown Band - Knee Deep